Last Updated: 2/22/2010
--- The California Central Coast ---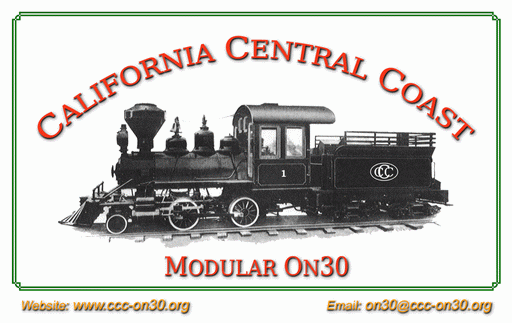 - Our History -
Back around 2002, there was a lot of buzz and debate regarding On30 modules and module standards on the On30 Conspiracy Yahoo group. As an offshoot of these discussions, a group of guys out in Texas formed the Texas Outlaws module group in 2003. During 2004, John Ray began a dialog with Don Culbertson of the Texas Outlaws. John has had a long standing interest in On30 and in modular railroading. The success of the Outlaws and Don's encouragement prompted John to form the California Central Coast in March 2005.
The group's first goal was to settle on a module standard. There were two choices - write one, or adopt an existing one. The On30 Conspiracy had formulated an On30 module standard back in 2003 but it didn't catch on. There was a group of guys on the east coast spinning up a Free-Mo style On30 standard. The Texas Outlaws were doing well with their homegrown standard. There were also a few other groups such as the Narragansett Bay Railway & Navigation who had posted their module specifications on the Internet. Shortly after the CCC was formed, Don Culbertson and fellow Texan Craig Palmer came out to California and attended the Pacific Conspiracy's Hofbrau mini-meet. After chatting with them at the meet, John was convinced that the Outlaw's module concept was a solid basis for On30 modules. As a result, the Outlaw's module specification became the core of the CCC's module standards.
With a standard in place, the next goals were to get some modules built, attract more members, and set a date for the first operating session. The group's formation had been announced on a few of the On30 Yahoo forums. These announcements, coupled with flyers in local hobby shops, attracted five additional members during 2005. O Scale West 2006 became the target for the first public operating event. The members built seven modules during 2005. These were brought together and tested in late January 2006. The following week, they debuted at O Scale West. The scenery was rough and unfinished but trains were running.
Since that first display, the group has setup layouts at over 30 events including Great Train Expos, O Scale West, NMRA Pacific Region conventions, and the World's Greatest Hobby on Tour. The group's membership has grown to 20 active members who collectively have over two dozen modules. Much as the Texas Outlaw's success encouraged John Ray to form the California Central Coast, our success has prompted others to form module groups in California and elsewhere.
Copyright 2010